We make clear and easy-to-understand health communication that improves the health and wellbeing of millions around the world.
Shohay Health is a pioneering health technology company working to democratize reliable health information for Bangla-speaking audiences worldwide. Founded by Dr. Tasnim Jara and Khaled Saifullah, a medical professional and an entrepreneur trained at Oxford University, our mission is to combat misinformation, inspire healthier living, and create lasting change in communities around the globe.
We provide accurate and easy-to-understand content on a wide range of health topics, including women's health, reproductive health, cardiovascular health, and everyday health concerns. Our journey began during the COVID-19 pandemic, when our videos reached over one billion minutes of watch time, and gained more than 9 million followers on social media. This work has established us as a trusted source for life-saving information about virus prevention and vaccine confidence for people in Bangladesh, India, and beyond.
We are committed to the accuracy and reliability of our content. Each piece of information is meticulously reviewed by licensed medical professionals, ensuring our audience receives the most reliable and up-to-date information. We strive to make our content easy to understand for people of all educational backgrounds, avoiding medical jargon and writing in clear, relatable language. Our work has been distributed in collaboration with the Bangladesh Government, BRAC, Grameenphone, and CARE Bangladesh, reinforcing our credibility and impact.
With our expertise in providing accurate and accessible health information to a large audience, Shohay Health is at the forefront of the health technology industry, poised to make a lasting, positive impact on global health.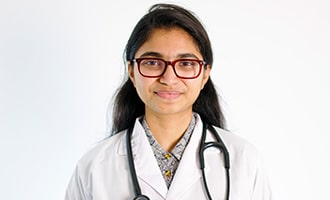 Founding Story
Learn how Dr. Tasnim Jara embarked on her journey towards building one of the largest Health media in Bangladesh.
Editorial Process
To ensure the highest level of medical and factual accuracy, we have developed a rigorous content creation and review process.
Identify needs
Collaborating with partners and our research team, who interact with patients firsthand, we pinpoint areas where clear health communication can have a significant impact.
Research and write
Our team of medical professionals, trained in effective patient communication, prepares content based on the latest high-quality evidence.
Review by experts
The contents undergo multiple stages of review to ensure clarity, accuracy, and relevance to local contexts.
Distribute
We distribute the content to millions of people using social media. Additionally, we collaborate with partners who utilize our content to train community health workers, improve patient education, and raise public awareness.
Our Work Have Been Featured In
Shohay Technologies Bangladesh Ltd.
OTOBI Center, 5th Floor, Plot 12, Block CWS(C), Gulshan South Avenue, Dhaka 1212, Bangladesh